Are you considering Six Months Smiles in Northern Ireland? There are a few things you should know before you take the plunge.
What are Six Months Smiles?
Six Month Smiles is a treatment designed for patients with extremely mild dental issues that affect the visible teeth, usually the two upper and two lower front teeth.
Those who opt for this method of teeth straightening should not have complicated orthodontic problems, but ones that have a cosmetic nature that affect your facial appearance.
Do you have crooked teeth or a wide gap between your front pearly whites that you are embarrassed about? Are you required to attend an event where you will probably be smiling for photographs?
Rather than bearing a tight-lipped smile for the camera, you can look forward to straighter front teeth before the big day with Six Months Smiles.
Are Six Months Smiles for everyone?
Six Months Smiles are suitable for individuals who want straighter teeth, with the operative word being "straighter".
This method for realigning pearly whites will not correct your teeth faster than more comprehensive orthodontic treatment but will only partially straighten your teeth.
Remember that orthodontics is not limited to fixing crooked teeth but also about correcting bad bites and realigning your jaw.  If you choose Six Months Smiles and yours is a complicated case, by moving a few teeth you could worsen your condition rather than improve upon it.
Shifting a few pearly whites when you have a bite problem could be disastrous where chewing becomes more of an issue for you, and speech impediments become steadily worse.
Why do some people choose Six Months Smiles?
As a result of the reduced time of treatment, Six Months Smiles are significantly cheaper than other types of braces.
If you have a mild oral issue and you are on a budget, Six Months Smiles is for you.
Another reason for Six Months Smiles is that the device is discreet.  The dental practitioner administering the procedure uses the clear braces system, which comprises ceramic brackets and archwires that blend with your teeth.
While the appliance may be less obvious that standard metal braces, it is essential to note that there are more subtle straightening aids on the market, for example, Invisalign.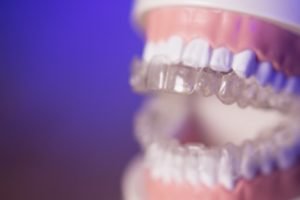 As the name suggests, and one of the primary reasons for many people choosing this treatment, it spans approximately six months.  However, this time could be further reduced or increased depending on the nature and severity of your orthodontic issue.  That said, the treatment is shorter than a full orthodontic procedure that extends between one and two years.
No one likes the idea of having to recline in the dentist's chair to have their mouth examined. Due to the brevity of your treatment, the dental appointments required will be significantly less.
Are the clear braces that are used permanent or removable?
Most braces used for this treatment are affixed to the teeth with a bonding adhesive. However, there are cases where the aligners can be detached.
If the option of removing braces is desired, a chat with a professional about this possibility will help.