Many people don't really know what a dental hygienist does, or why it's important to visit a good one. Most people know they should go to the dentist for a check up every six months, but don't necessarily visit the hygienist as well.
It's good to know that visiting both professionals on a regular basis can make a dramatic difference to the health and longevity of the teeth and gums; so it's well worth considering doing so.
The role of the hygienist
The hygienist is professionally trained to clean and look after the teeth, gums and mouth in general. A cleaning session takes around half an hour, and can have an impressive impact on the health and appearance of the teeth. The dentist can refer patients to the hygienist, so it's a good idea to ask for an appointment after having the usual check up.
Stay fresh
People who get their teeth cleaned by a professional on a regular basis find it much easier to maintain fresh breath. This is because the combination of good oral hygiene and the work of the hygienist means that plaque and any other debris is removed from the teeth – and these are the factors that can cause bad smelling breath. Anyone who is concerned about having fresh breath should see their hygienist to maintain that clean feeling.
Prevent problems
 If the teeth and gums are kept super clean by a professional and by the patient themselves; they are much less likely to need fillings or to develop infections in the teeth and surrounding areas.
In addition, the risk of  tooth loss is reduced considerably by thorough and regular cleaning – as it can prevent gum disease. This means that the patient is at much less risk of having to suffer discomfort or pain; and of having to endure related treatments. This can also help to minimise the financial costs related to looking after the teeth; as maintenance can be all that is required.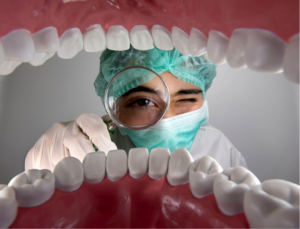 Keep teeth whiter
 Visiting the hygienist can help people to keep their teeth looking better from an aesthetic point of view. Sometimes, people are considering whitening treatments when a really thorough clean could be all that is needed to get rid of stains and make the teeth look much whiter than before.  
It's worth making sure the teeth are super clean before thinking of getting the teeth whitened, as the treatment may not actually be necessary for some patients. 
A hygienist can be instrumental in helping people to keep the teeth and gums clean and healthy. Getting the teeth professionally cleaned as well as seeing the dentist are the best ways to prevent problems and ensure that people can keep all of their teeth for as long as possible.
It's also vital to clean the teeth twice daily at home, and to clean between the teeth with floss or interdental brushes. Doing all this allows people to have the best possible chance of having great teeth that don't need much in the way of dental treatments.