Come to Surrey
Surrey is a province in England's South-East, just an hour or so from the busy centre of London, but a universe away with regards to its atmosphere. With it's tranquil walks and scenery it is an area steeped in rich history and quaint, quintessentially British charm.
Along with its picturesque landscapes, Surrey has many places of historical interest, such as the ancient site of the sealing of the Magna-Carta – effectively the first ever bill of rights passed to end absolute rules of kings. Along with ancient attractions, it also boasts all the amenities one would expect to find in any contemporary city – with upmarket shopping and dining, as well as highly renowned doctors and dental practitioners.
Treatments offered
One such practitioners is Weybridge Orthodontics, who offer patient tailored, bespoke treatments across a range of procedures and through establishing a patient-practitioner relationship build on trust and confidence. One procedure that is offered here is the installation of Invisalign mouthpieces, as well as other non-visible orthodontic treatments, such as Incognito brace. Invisalign is the work of Stanford University graduate Zia Chishti, who, around the year 2000 had the notion that you could replace the function of traditional, fused braces a dental retainer that would realign a patient's teeth over the course of treatment – without undergoing a dental operation, or being visible from the outside. Despite having no dental experience prior, Chishti's idea grew into what is now one of the most highly sought after forms of dental realignment – Invisalign. The mouthpiece that is used is formed from a specifically designed, flexible plastic called SmartTrack®. This plastic, when worn over the teeth for the duration of treatment – which varies according to the patient's individual needs, but generally lasts for around 12 months – aligns the patients teeth to the specifications discussed with a trusted orthodontist of their choosing. The mould, which is uniquely tailored to the teeth of each patient, can be removed at any point throughout treatment unlike conventional fused 'train track' braces. This procedure has gained rising popularity since its invention, particularly with teenagers and young adults. The primary reasoning behind this being its discreet nature – whereby young people can undergo dental alignment, without attracting unwanted attention. This anonymity can help boost patient's self-esteem and confidence, as well as properly aligning their teeth.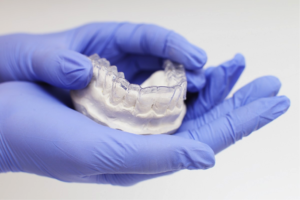 One young patient who underwent Invisalign treatment stated that;
"The results are what I wanted; I feel more confident and have the smile I always dreamt of. You need to give patience and commitment to see it through; as for me it was a long process. It was definitely worth it. The level of service was fantastic and was a very happy customer.'
Secret success
Another, similar treatment to Invisalign, in its effect of providing discreet realignment is Incognito braces. These are the results of pioneering dentists from Japan and the US in the 1970's, who wanted to combat the detrimental effect that braces had to a patient's self-esteem. The process is similar to conventional 'train track' fixed braces, only they are placed behind the teeth – rendering them practically invisible from the outside. Whilst they are not removable, like Invisalign they are on-par in terms of their popularity and positive effects on patients'self-confidence – and allow them to continue with life as normal, whilst simultaneously undergoing dental alignment.